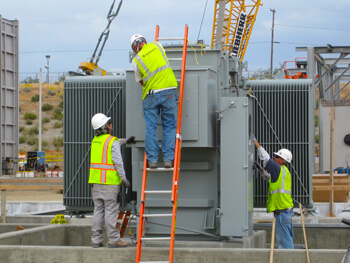 KDC Inc., (formerly known as Dynalectric L.A.), provides award-winning, high-performance electrical construction solutions for a broad range of industrial and commercial markets including healthcare, transportation, manufacturing, pharmaceutical, energy production, food processing, and more.
Our comprehensive services include:
Building Information Modeling
Electrical and HVAC controls installation
Photovoltaic and electric vehicle charging systems
Custom control panel construction and testing
Constructability reviews and preconstruction value engineering
Prefabrication of conduit, controls, and components
Streetlight and traffic signal services
Maintenance and technical support
In-House Ability to Serve All Your Locations
Our state-of-the-art UL-approved panel fabrication facility can provide on-time delivery of both standard and custom control panels no matter where you are, nationwide.
From small needs through large and complex projects, our in-house capabilities cover a complete array of reliable, expert electrical services.
Additional Systems and Services for Turnkey Solutions
In addition to our full suite of core services, we also provide advanced design-build, design-assist, and engineering services, including integrated project delivery through fast-track and lean construction processes. In collaboration with KDC Systems, we offer systems and services such as: