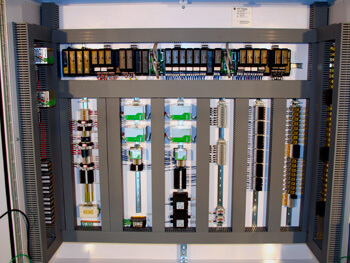 KDC Inc., (formerly known as Dynalectric L.A.), custom-builds control panels to the highest quality and standards. Our goal is to exceed your expectations, and help ensure the reliability of your systems' controls.
Our team works work closely with our division, KDC Systems' to deliver complete solutions in-house. We can also work with third-party engineered panels, coordinating with our engineers to resolve any design issues.
Extensive Range of Panel Configurations
We manufacture custom panels for many applications, including:
Process industries (water/wastewater, life science)
Material handling (distribution centers)
Building automation controls
Ranging from pushbutton stations through wall-mount, multi-door, and floor-standing enclosures, we build control panels that house components such as:
Programmable logic controller/distributed control systems
Operator interfaces
Variable frequency drives/motor controls
Power distribution devices
Customized to Suit Your Specific Project Needs
Whatever the unique specifications of your project, our customization capabilities include:
Enclosure cutouts in painted and stainless steel
Wire, component, and panel labelling
Device mounting
Touch-safe, component shielding
Control panel testing (non-powered and powered up to 480 volts of alternating current)
To learn more about our panel construction capabilities, contact us today.